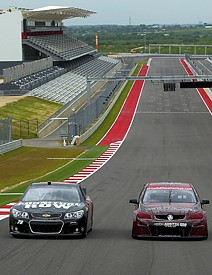 2004 NASCAR Sprint Cup champion Kurt Busch and 2010 V8 Supercars champion James Courtney swapped cars for a promotional event at Austin on Tuesday.
The venue will host the fifth round of this year's V8 series on May 18-19. It will be the first time an Australian motorsport series will hold a full championship race in the US.
Busch was quick to praise Courtney's Holden, saying its balance in particular had impressed.
The V8 Supercar is around 400lbs lighter than Busch's NASCAR Chevrolet but trails on power, producing 650bhp compared to the Chevrolet's 950.
"The quickest way I can compare an Australian V8 Supercar to what people are familiar to in the States is it's a muscle car but it's a sportscar at the same time," Busch said.
"[It has] much more power than what you see in the GT classes in the Grand-Am series.
"And the ability, [from] what I see on TV, for these guys to run side-by-side, nose to tail, is the control of the cars. The balance they have makes it a treat to drive."
Courtney, who lies eighth after the opening three rounds of this year's championship, added: "It was pretty wild sitting on the other side of the car and shifting an H-pattern gearbox.
"The car was bigger and heavier. It has so much power. It's really quite an experience.
"It was also quite cool to blow past the V8 car on the straight. It was really good. I'm forever grateful that the team gave me this opportunity."