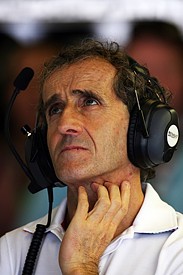 Alain Prost will assume an advisory role with Renault Sport F1's executive committee after extending his deal as a brand ambassador to the firm.
Under the new arrangement Prost will attend a number of Formula 1 races over the season as well as select Formula Renault 3.5 events.
Prost, who has been a Renault brand ambassador since 2012, came close to winning his first F1 world championship with the works Renault squad in 1983.
After three years and nine wins with the team he left for McLaren - which would later lead to his infamous intra-team duels with Ayrton Senna - and then Ferrari.

Prost's side of the Senna story
He returned to Renault power with a move to Williams in 1993, a year he dominated by winning seven times en route to his fourth world crown.
"Renault has a long history within F1 and everything it has done in the sport has ultimately been a success. Indeed I have achieved some of the greatest results of my career with Renault power," Prost said.
"Over the past year I have seen that it has kept the same passion and rigour for F1, and it has stayed true to these values as it prepares for the new V6 power unit in 2014.
"I will use my experience and knowledge of the sport to advise on strategic and technical challenges - it's a very exciting time for everyone and together we represent very strong potential."