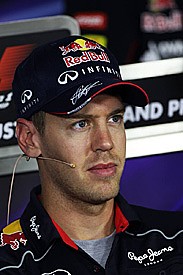 AUTOSPORT's writers believe that Sebastian Vettel will win a fourth straight Formula 1 drivers' title in 2013, but that it will once again be an ultra-close fight with Fernando Alonso.
Every year AUTOSPORT's editorial team members pick their predictions for the top five in the drivers' and constructors' championship, with the scores then added up to determine the title favourites.
Vettel emerged narrowly in front of Alonso, with Jenson Button a distant third.
Red Bull swept the board in the constructors' predictions, with the majority of the team expecting another crown for the Milton Keynes squad.
* Click here for the full AUTOSPORT season prediction poll and to see how the rest of the frontrunners were rated