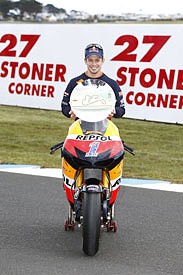 Retiring two-time world MotoGP champion Casey Stoner has been honoured by Australian Grand Prix venue Phillip Island, which has named Turn 3 after him.
The 27-year-old Australian was asked to choose which part of the circuit he would like his name to be associated with, and he picked the 155mph down-left hander to be known as Stoner Bend.
"Turn 3 is probably my favourite one in the world," said Stoner. "I am almost flat out in fifth gear through there and that is pretty damn fast and it really gets your blood flowing that's for sure.
"It always gives me a great rush going through there so to have a corner named after me at Phillip Island is something quite special. It is a great privilege."
Stoner joins fellow Australian bike legends Wayne Gardner and Mick Doohan to have had a part of the track named after them.
Stoner has won his home race on every occasion since 2007 but with just two GPs left to ride in an illustrious career that boasts 37 victories in total, the factory Honda rider admits adding another final home victory will be difficult as he continues to recover from an ankle injury.