GT Academy 2010
One motorsport and gaming fan will have the chance to become a real-world racing driver next year, thanks to Nissan and Sony Computer Entertainment Europe once again joining forces for the GT Academy 2010.
The competition will use the virtual world of the new Playstation Gran Turismo 5 game to find one winner, who will go through an intensive training programme and earn a season-long drive in a full race-spec Nissan 370Z in the European GT4 Cup.
Last year's inaugural GT Academy proved that the world of virtual racing could unearth a real racing talent, in 23-year-old Spanish student Lucas Ordonez, now you could be the next driver to graduate from console to full-on racing driver.

GT Academy is back, bigger and better, in 2010. Gran Turismo fans will be offered a sneak preview of the hotly-anticipated Gran Turismo 5 game - due for release during 2010 - and will be able to record flying laps around the Indianapolis GP track through the Playstation Network on the PS3. The 20 fastest online laptimes from each participating country will qualify for their national final, where they will battle each other on another exclusive Gran Turismo 5 level.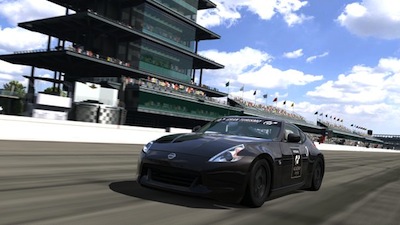 The 20 winning national finalists will then head to the world famous Silverstone circuit for the GT Academy itself - a five-day comprehensive racing driver boot camp. They will have the chance to develop their driving skills in an array of cars, while also being judged on fitness and mental attitude.
The two drivers showing the talent, fitness, aptitude, drive and determination to succeed in motorsport will undertake a UK-based intensive racing programme to qualify for an international racing licence.
But there can only be one winner, and the overall GT Academy 2010 champion will be rewarded with a full season in the European GT4 Cup, beginning in May 2010, in an RJN Motorsport-prepared Nissan 370Z.
The competition is open to participants from the following countries: Australia, Austria; Belgium; France; Germany; Ireland; Italy; Netherlands; New Zealand, Portugal; Spain; Switzerland; UK; and Denmark, Finland, Norway and Sweden. Anyone who holds, or has held, a national or international race license will not qualify for GT Academy. This rule is aimed at maintaining the purity of the virtual to real concept.
The online section of the game will run from December 17 to January 24, with national finals following soon afterwards. The GT Academy itself takes place from February 26 to March 3. The two winners will have to quickly clear their diaries, as their intensive training programme will start immediately and culminate in one driver racing in the European GT4 Cup.
Nissan International's vice president of marketing, Vincent Wijnen, says: "Following the success of last year's GT Academy programme, we had no hesitation in working with PlayStation on GT Academy 2010. The idea behind GT Academy is a natural extension of our approach - we're determined to challenge the traditional way of doing things. Both the GT-R and 370Z combine performance with accessibility for drivers who are serious about driving enjoyment. Similarly, GT Academy makes the dream of becoming an authentic racing driver more accessible than ever thanks to Nissan, PlayStation and the stunning Gran Turismo's online capability. Nobody else could deliver this programme."
To find out more about GT Academy, news and views will be shared on a variety of platforms including:

facebook.com/GTAcademy


twitter.com/GTAcademy


eu.gran-turismo.com